The John Moore House, 807 Edgell Road, Circa 1830



The John Moore house pre-dates the Nobscot Chapel, and is south of it by about 2/10ths of a mile at 807 Edgell Road. Former town historian Steve Herring dated the house at circa 1830, but believes that it may be earlier than that. The attention of passerby and motorists on this section of Edgell Road is frequently drawn by the property's dramatic and beautifully maintained gardens surrounding the house.
The house consists of an L-shaped living room, a large kitchen with a tiny bathroom off it, with a bedroom off the kitchen with another bedroom adjoining that abuts the living room, for a total of four rooms. Herring stated that it was relatively untouched, with the exception of an added front porch, from its original construction.
Hurricane Gloria took off the back room of the house, which was re-built so the back "wing" of two rooms is all new construction, creating a fifth room. But the bones of the kitchen, living room, and bedroom are all intact. The barn, other than some shoring up of the front wall, which was flapping in the wind, is also mostly intact.
Half-round logs are used as rafters in the roof. Most with the bark still on them! Large beams loom overhead in the kitchen. There are also large timbers in the bathroom wall. Some of the timbers appear to be re-used from other construction. The bedroom and the living room have exposed corner posts. The beams and timbers appear to be chestnut; they are so hard that driving nails into them is nearly impossible. There were some timbers which had pegs and peg holes, some in use, some which had been in use but are no longer intact, and some from a previous construction use of a beam.
One interesting feature is that the bathtub, a tiny (4 feet long) claw foot iron tub, is dated on the bottom 27 Mar 1920, which harkens back to when the bathroom was installed. The barn is balloon framed, and appears to the right in the old photo. At some point, it was extended to the north. There's a massive beam at about chair-rail height in the original north wall. Herring cited it as an example of how many early houses in Framingham started out, and that it had survived pretty much intact.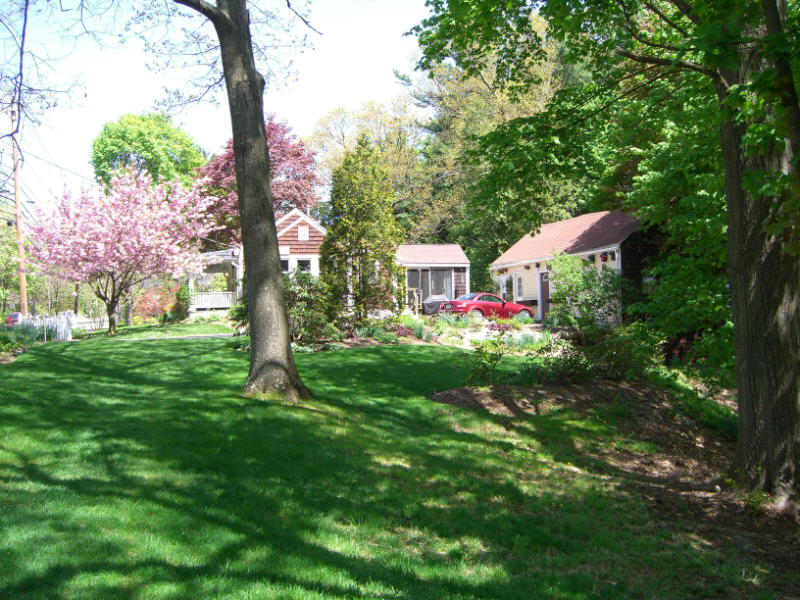 John Moore House, today, side view
John Moore House, circa late 19th century