Nobscot Spring Bottling Company
In the early 1900s Nobscot Spring bottling company was one of the village's primary business concerns. They obtained the water from a natural spring off Edgell Road, at the foot of Nobscot Mountain. The famed water was distributed in both single serving bottles and large dispensers, and had customers from as far away as New York City and Philadelphia. Long after the company closed, local residents still visited the spring to fill their own water bottles until the site was finally closed for safety reasons.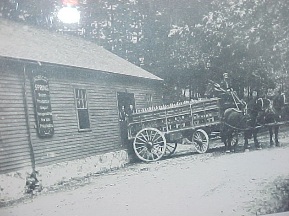 None other than the famous cookbook author Fanny Farmer had a mention of Nobscot's spring water in one of her books. The text below is from an advertisement in Food and cookery for the sick and convalescent.
"Pure water is more essential than pure food"
NOBSCOT MOUNTAIN SPRING WATER
A pure soft water, analyzed and approved by Massachusetts State Board of Health.
Put up in dozen and half dozen two-quart bottles in spring-lock cases.
Also in five-gallon carboys. Booklet with price and analysis mailed on application.
62 CONGRESS STREET Tel. 3596 Main, Boston.